Queensland Industrial Cladding places the highest priority on the safety of our employees and others in the workplace. Risk analysis and control is carried out on all parts of any project. Queensland Industrial Cladding establish, monitor and maintain safe and healthy working conditions on all projects undertaken, with the ultimate goal of achieving an accident free work environment. All Queensland Industrial Cladding management, team leaders and team members improve the safety and health effectiveness of all projects through evaluation, planning, training and implementation of safe work procedures.
Queensland Industrial Cladding Innovated safety system.
Roof mesh winches
We have developed roof mesh winches which we use to pull long runs of mesh safely and quickly to avoid fatigue and strains on the mesh pulling crew.
Wall installation Winches
We utilize electric winches to pull long wall sheets (>10m) into position. We adopted this technology following identification of this exersie as being a prime source of strain injury to our workers. It also helps to address fatigue and overheat issues on sites, as well as being efficient sheet locating system which is particularly useful on windy sites where sheets may become out of control when manually lifted.
Purlin Trolley
Our purlin Trolley / Roof Walker has been developed over many years of experience in the roofing & cladding industry. Queensland Industrial Cladding has hired out the roof walker system to clients such as Bechtel, and has been used on mining sites.  We are proud of this development as this is at the cutting edge of safety and our commitment to achieve a high safety standards in the work place.
Custom made ridge-vent installation trolley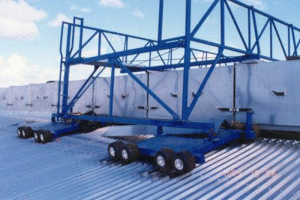 Ongoing Commitments
Queensland Industrial Cladding provides all our employees with the following training
Working at heights.
Handling materials.
Rigging & Hoisting.
Safety Certificates.
Induction & Site Inductions.
Tool Box Meetings.
Operation of Power equipment and Machinery.
Installation of temporary safety hand rail.
Installation of Safety Mesh.
We insure that all our employees meet all safety standards, and attend safety meetings that are required by our clients.